As a print publisher are you fed up with offline form submissions for Classified Listings? Well, Classified Listings have been a very important part of your business. So how are you collecting the information for the Classified from your client? If you are using the same old technique of paperwork then you must read this article carefully as we have an amazing solution for you.
Classified Online Form Submission
Now your customers/clients can easily submit their classified listing information online with the help of YuktaMedia's Classified Listing Platform. Gone are the days of manually entering all the details of the client on paper and maintaining all the records. Our powerful Classified Listing Platform makes magic with the help of technology. Your customers can easily list their classified ads online and can also preview the text. They can also see the format of the advertisement, how many lines their ad is, and also the cost of it.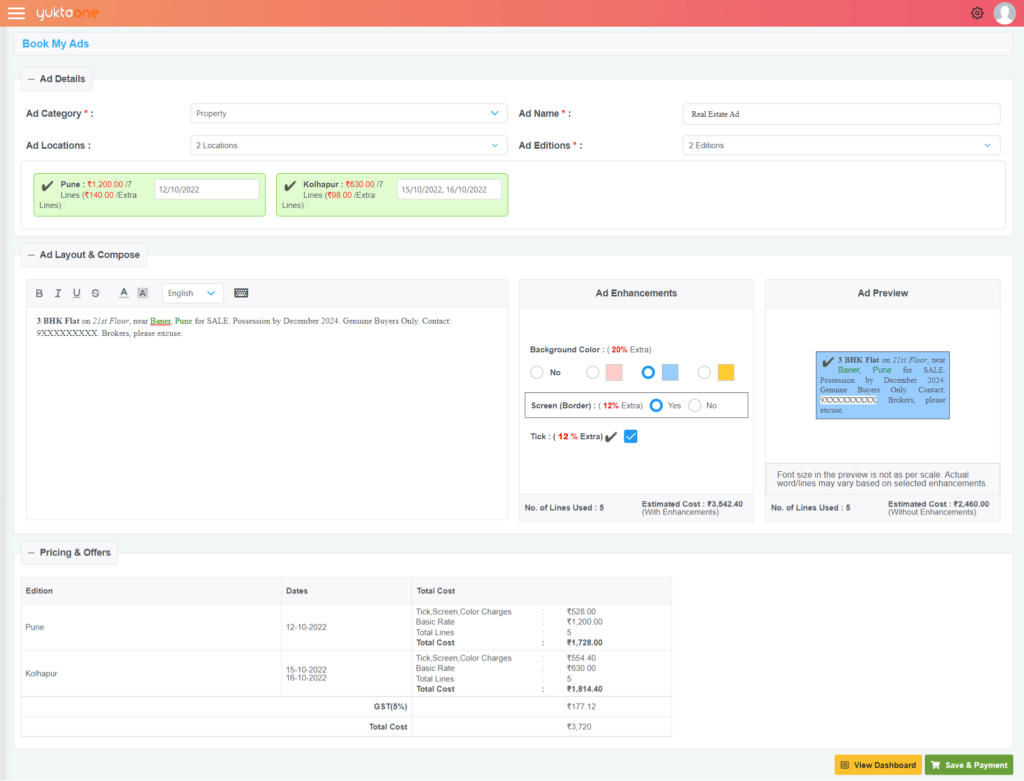 Templates for Classified Listings
The best part is that you as a Publisher can save templates for various types of Classified ads. Be it Property Listing, Birthday, Matrimony, Death, Automobile Buy/Sell, and many more, you can easily make default creative templates to make your customer's work easy. They just have to fill in the information and preview their Ad online in real time before it gets published. They can also select any premium listing type or location of the listing.
Admin Console

There will be a dedicated Admin console where you can see all the applications from your customers and see their listings with the creatives. You can also approve or reject them if needed or ask your customers to modify the listing as per their needs.
Payments
With the use of Online Classified Listing submission, the user can easily make the payment online after previewing their listing. In this way, you as a Publisher can receive the payments online and with ease without any hassles of paperwork and follow-ups with the clients for payment.
Why must print publishers opt for Online Classified Listing submission?
There are various reasons why you as a publisher must make this offline process into online
Saves your resources
Having a client onboard for a classified listing is a tedious process. Why not make it fun by letting the clients fill in the details? This will save a lot of resources which are applied like manpower for the client onboarding process.
Saves your valuable time
Just imagine that you receive many applications on a daily basis for the classified listing process. Why not make all this process online clients onboarding so that it will save your organization's valuable time? You can use this valuable time in creating content for your readers and increasing your audience.
Summing Up
If you are looking to digitize your Classified Listing Process Onboarding then feel free to Contact Us!