COVID-19 has landed Publishers in a unprecedent times. Publishers who were earlier just bleeding have now suddenly found themselves in the "death zone". COVID-19 has dried up budgets and pushed Publishers in terminal velocity.
If you look back at the past few years, you will begin to piece together a story for why Publishers find themselves at the edge of mortal danger…
[1] Easy money – A number of small to medium sized Publisher have been just plain lazy and depended on one two Demand Partners to generate revenue. Most common one being Google Ad Exchange. Too much dependency on one or two Demand Partners, means you are not really trying to work the auction (put pressure). If there is no competition in the auction, if there are not enough Buyers, then how can one expect to make the most money for each impression?
[2] Ease of implementation – For ease of implementation Publishers have sacrificed much of the transparency and data they would otherwise get for making data-driven decisions. Case in point using Google's Exchange Bidding instead of Header Bidding.
Here's a quick overview of pros and cons: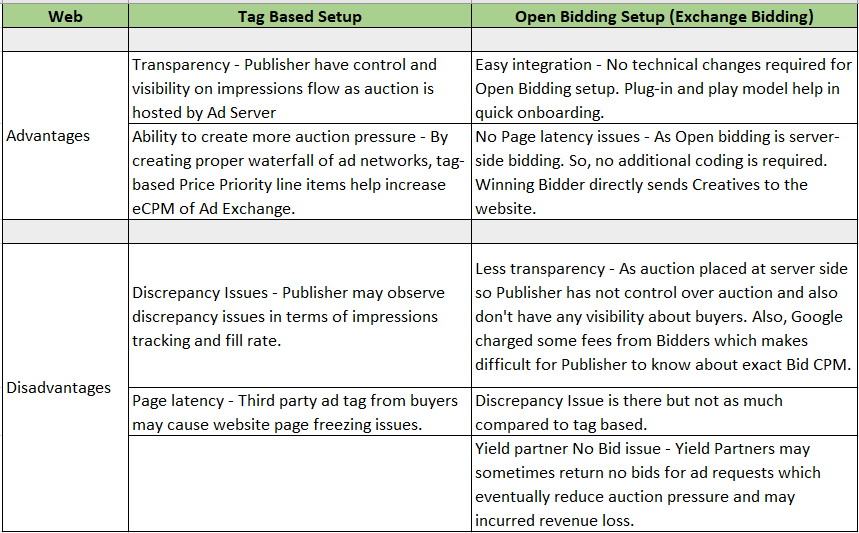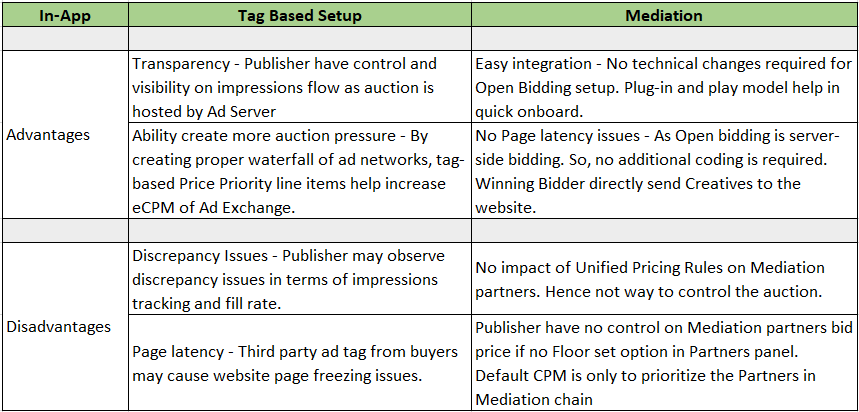 On top of this Google is now going to charge $1,000/month for getting bid level data. The very thing that is required to get set the right price for Publisher's inventory.
[3] High-level understanding of auction dynamics – A number of Publishers and their Ad Ops team have not spent enough time to thoroughly understand the different types of auctions and how they work. For example, when using Google Ad Manager (GAM) figuring out how First look v/s dynamic allocation v/s open auctions work. Where and what impact does Unified Pricing Rules (UPRs) have these types of auctions. What impact will be there is the same Demand Partner is used in Header Bidding, Exchange Bidding as well as Open Auction? Do UPRs impact In-app monetization? If not, then what's the best way to introduce auction pressure? and more such questions remain unanswered. It is clear after working with Publishers around the world that Publisher's Ad Ops / Yield team is lacking the expertise to take control of the various auction types and make the most revenue from them.
[4] High-level reporting – In digital monetization data is everything if correctly utilized. But it's easier said that done for two reasons:
Collecting and processing data from multiple Demand Partners is time consuming.
After the data processing is done, drawing meaningful actionable conclusions is even more difficult.
Hence, at times Publishers relay on just collecting high level data which doesn't give them the depth of insights required to make changes that will have desired impact on monetization.
What Publishers need is beyond just fancy dashboards… Publishers need a platform that will do the following:
Automate data collection from various Data Partners
Process collected data and help generate dashboards
Send out alerts and notifications via Slack, Email, SMS and other channels
Provide actionable recommendations to various teams based on the collected and processed data
Highlight problem areas and opportunities so that Publishers team can act on it ASAP.
[5] Outsourcing monetization – This is the laziest form of monetization where Publisher uses a "monetization partner" who takes complete control over monetization and just cuts the check to the Publisher at the end of the month. In a situation like this the Publisher doesn't have the visibility or control over making the most revenue for every impression. In situations like this, Publishers must ask for higher transparency, keep an active check on quality of ads, ensure that there is no data loss, etc. Publishers must strictly manage on-boarding and off boarding of such monetization partners. In a number of cases when Publisher stop work with such monetization partners, a slew of carnage is left behind in terms of incomplete removal of code form web-pages / apps, Campaigns still active, pixels still firing, etc. This could result in ongoing latency and data loss, etc.
If, as a Publisher, you have faced one or more of these issues then this is the right time to address them and be ready for Post COVID-19 era.